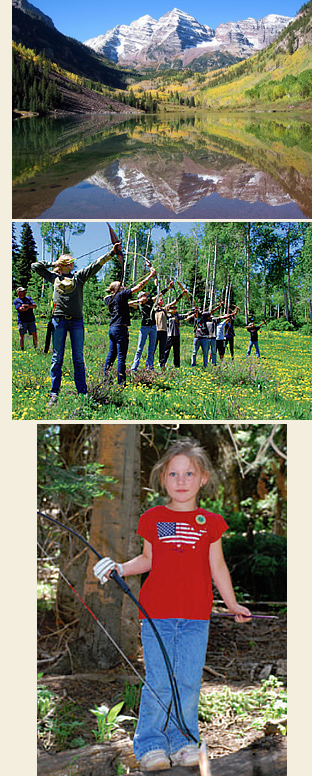 Welcome To Colorado Traditional Archers Society!We're glad you could make it!
There is nothing more magical than the quiet "thump" of a string resulting in the graceful arch of a feathered shaft. It is the basis for our family values, deep respect for wildlife, and our longing for high mountain vistas and quiet country fields. It is why we regularly dream of summer's end and the beginnings of fall as evidenced by the changing of the leaves, the first hints of snowfall high on distant peaks, and the haunting scream of a distant bull elk.It is clearly a lifestyle choice for us, and one we share with family and friends.To us, there is no better day than those spent on rocky ridges or aspen rimmed meadows accompanied by nothing more than a bent stick with string, and a quiver full of arrows.
Combine our passion with the good fortune of awakening daily to the majesty of the Rocky Mountains and you understand who we are and why we live here!!
Colorado Traditional Archery Society (CTAS) is an organization comprised of individuals with common roots in traditional archery and the Colorado Rocky Mountains. Our idols have names like Pope, Young, Compton, Bear, Hill, and Thompson. Our bows of choice are longbows, recurves and self bows. We long for days afield with bows in hand, followed by the flickering light of a cozy campfire.
Our heritage was perhaps best summed up by Fred Bear when he said "the history of the bow and arrow is the history of mankind". This is our heritage, passed down from previous generations, and one we want to share with future generations. We are first and foremost a family based organization. We encourage you to bring your spouses and children to all of our functions. Our primary motivation is to preserve traditional archery for generations to come and that makes our children the focus of our activities.

The CTAS Mission
To foster, preserve and perpetuate methods of construction and the use of self bows, flat bows, longbows and recurve bows plus the associated tackle and accessories.
To foster, expand and perpetuate the more traditional archery games by shooting animate and inanimate objects at unknown distances.
To foster and perpetuate the spirit of fellowship among all archers.
To protect, improve and/or increase the priviledges of bow and arrow hunters in their pursuit of all legal game animals, birds and fishes. To cooperate with local, state and federal agencies and sportsmen and conservation organizations in the propogation/conservation of game and natural habitats.
To conduct continuous programs to educate the public and improve the image and technique of bow and arrow hunters.