Join us for our annual High County Shoot! Be sure to pre-register with the form below and contact us with any questions or concerns, you have.  This year's dates are: June 23 – 25, 2017,  The shoot will be at the same location as last year. 
High Country Shoot Schedule of Events
You can download the CTAS  High Country Shoot Pre-Registration Form Here:
CTAS PRE-REGISTRATION FORM 2017
Guaranteed outdoor fun for the whole family!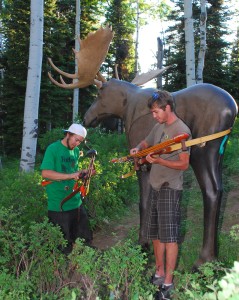 TOP 10 REASONS TO ATTEND THE HIGH COUNTRY SHOOT
1. Seeing old friends and meeting new friends!
2. Walking and shooting the courses with old friends and new!
3. Having good laughts with old friends and new!
4. Fresh mountain air
5. The beautiful mountain flowers and scenery
6. Peaceful mornings listening to the sounds of birds and wind in the trees
7. Larry Alma's kitchen!
8. The jug shoot, battle clout, long distance shoot, 3 arrow!
9. Really relaxing and enjoying time with my family
10. Just being at THE BEST traditional shoot IN THE WORLD!
Images of Past High Country Shoot FUN!