If you're looking to join our group, you may want to know a little more about us and our history! Take a moment and follow our story from our beginnings to what we are today!
The beginnings – May 1992
On May 19, 1992 a small group of dedicated traditional archers met at JimBow Archery Shop in Whitewater, Colorado with the task of founding the first traditional archery organization in Colorado. Led by western slope archery shop owners Jim Garoutte and Jerry Barr, the group decided on Colorado Traditional Archers Society as the name of the new venture and elected Jerry Barr as its first President.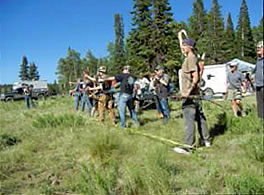 The first shoot – July 1992
The first organized shoot was in July of 1992 and drew 23 shooters to the Grand Mesa Bowmen range. The next couple of annual shoots drew around 60 shooters.
The first rabbit shoot – February 1993
CTAS organized its first rabbit shoot in February of 1993 and it is an annual winter event.
New leadership – 1995
In 1995, after struggling for a couple of years, Frank and Patti Adams took over the leadership of the fledgling organization. With targets rented from the Meeker Sports Club the first High Country Shoot was held at the old gravel pit site in the White River National Forest north of New Castle, Colorado. The first shoot drew 55 shooters and was financed on the Adam's Visa card. The next year the number of registered shooters tripled and today the shoot annually draws around 400 traditional shooters and family members.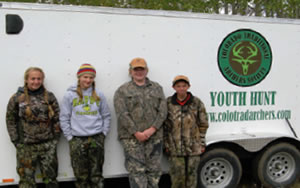 First Youth Hunt – 2000
In 2000 the organization held its first Youth Hunt, a successful annual event that provides bowhunting opportunities to the youth of Colorado.
Annual Banquet – a popular, fun-filled event
In addition to the above, the annual banquet today draws some 300 members  and features a noted speaker, art displays, an auction, and seminars by local bowhunting experts.